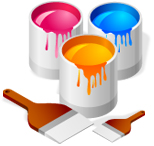 Voice Changer Software is a good call for those wishing to retain their online anonymity, for karaoke fans, and for certain audio enthusiasts.

Voice Changer Software Diamond is friendly with almost all audio video programs, voice chat rooms, instant messengers, conferencing, PC phone, voice gaming, media players, recorders, and DVD, CD, and karaoke players. You can change the sound of your voice in real time, which makes the utility perfect for masking your true identity during chats or Internet phone calls. The program also lets you save your customized settings, so you can instantly sound like a girl (if you aren't one already), an old man, or a macho guy.

FREE library of coolest nickvoices (for male voice, animals, fabulous creatures, music, nature phenomena) and effects (Halloween is the latest among other cool effects) to update your Voice Changer Software Diamond.